Depending on whom you talk to, medical marijuana (also known as cannabis) is either a panacea for everything from cancer, to chronic pain, to epilepsy or it's a dangerous and illegal drug with no place in medicine.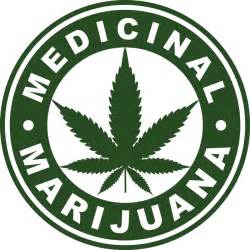 In 1996, California voters passed Proposition 215, making the Golden State the first in the union to allow for the medical use of marijuana. Since then, 28 more states, the District of Columbia, Guam and Puerto Rico have enacted similar laws. A total of 29 states, the District of Columbia, Guam and Puerto Rico now allow for comprehensive public medical marijuana and cannabis programs.
More states are passing laws that allow people to use medical marijuana. So what does it treat, and who can and should use it? Pain is the main reason people ask for a prescription.
The term medical marijuana refers to using the whole, unprocessed marijuana plant or its basic extracts to treat symptoms of illness and other conditions. The U.S. Food and Drug Administration (FDA) has not recognized or approved the marijuana plant as medicine.
However, scientific study of the chemicals in marijuana, called cannabinoids, has led to two FDA-approved medications that contain cannabinoid chemicals in pill form. Continued research may lead to more medications.
Because the marijuana plant contains chemicals that may help treat a range of illnesses and symptoms, many people argue that it should be legal for medical purposes. In fact, a growing number of states have legalized marijuana for medical use.
The FDA requires carefully conducted studies (clinical trials) in hundreds to thousands of human subjects to determine the benefits and risks of a possible medication. So far, researchers haven't conducted enough large-scale clinical trials that show that the benefits of the marijuana plant (as opposed to its cannabinoid ingredients) outweigh its risks in patients it's meant to treat. Cannabinoids are chemicals related to delta-9-tetrahydrocannabinol (THC), marijuana's main mind-altering ingredient that makes people "high." The marijuana plant contains more than 100 cannabinoids. Scientists as well as illegal manufacturers have produced many cannabinoids in the lab. Some of these cannabinoids are extremely powerful and have led to serious health effects when misused.
The body also produces its own cannabinoid chemicals. They play a role in regulating pleasure, memory, thinking, concentration, body movement, awareness of time, appetite, pain, and the senses (taste, touch, smell, hearing, and sight).
Currently, the two main cannabinoids from the marijuana plant that are of medical interest are THC and CBD.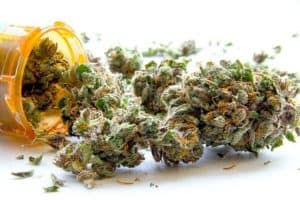 THC can increase appetite and reduce nausea. THC may also decrease pain, inflammation (swelling and redness), and muscle control problems. Unlike THC, CBD is a cannabinoid that doesn't make people "high." It may be useful in reducing pain and inflammation, controlling epileptic seizures, and possibly even treating mental illness and addictions.
Scientists are also conducting preclinical and clinical trials with marijuana and its extracts to treat symptoms of illness and other conditions, such as diseases that affect the immune system, including HIV/AIDS; multiple sclerosis (MS), which causes gradual loss of muscle control; inflammation; pain; seizures; substance use disorders; and mental disorders. Some women report using marijuana to treat severe nausea they have during pregnancy. But there's no research that shows that this practice is safe, and doctors generally don't recommend it.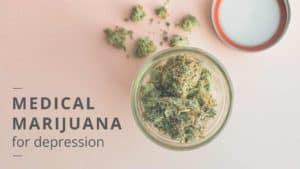 Medical marijuana is not monitored like FDA-approved medicines. When using it, you don't know its potential to cause cancer, its purity, potency, or side effects.
Marijuana impairs driving, according to the National Institute on Drug Abuse, so if you're taking medical marijuana it's best not to get behind the wheel. It is also particularly detrimental to teenagers' developing brains, impairing thinking and memory for days after use.
Only people who have a card from a doctor should use medical marijuana. Doctors will not prescribe medical marijuana to anyone under 18. A patient under the age of eighteen must have a caregiver who is approved by the department in order to obtain medical marijuana. A caregiver can be a parent, guardian or an individual approved by the State Health Department.
Any individual suffering from a serious or chronic medical condition in which other traditional measures and medicines have not been effective can see a qualifying health care professional who can write a recommendation for medical marijuana as part of ongoing treatment of the patient's terminal or debilitating condition. The physician, after completing a physical examination and documenting the medical condition in the patient's record, will provide a written recommendation stating the patient would benefit from treatment using medical marijuana.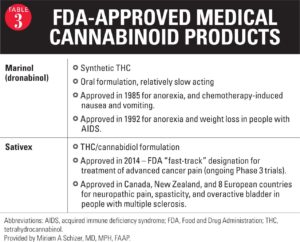 A recommendation is different than a doctor's prescription that could be filled at a pharmacy. Cannabis is classified by the federal government as a Schedule I drug and therefore doctors are not allowed to prescribe it, but they can supply patients with medical marijuana recommendations that comply with state law, allowing patients to either buy from a dispensary or supplier or grow themselves, in specified quantities.
One last point to keep in mind: To date, the FDA has not approved a marketing application for marijuana for any indication.